Japanese tea ceremony is perhaps the most refined way to serve a simple bowl of tea. Having more than 400 years of history, the Cha-no-yu includes almost every aspect of traditional Japanese culture, such as painting and calligraphy, architecture, pottery, lacquerware, flower arrangement, cuisine and so on.

The philosophy behind tea ceremony can be perhaps best described by the words Wa-Kei-Sei-Jaku, or "harmony, respect, purity, tranquility".
The host and the guests gather together in order to create a once in a lifetime time and space of pure beauty. In order to achieve that, the host has to clean and prepare the tea room and the garden, carefully select the utensils, hanging scroll, flowers and sweets, all according to the seasons and the theme of the gathering.
The tools are usually museum-grade pieces of enormous value. By coming in contact with these works of art, one can truly feel the spirit of the past generations.


If you want to experience tea ceremony in its most authentic form, under the guidance of a skilled tea master, Koudoukan is the place for you.
Here you can share a peaceful moment with a bowl of tea in a historical "sukiya-zukuri" style building surrounded by a peaceful Japanese garden. You will also learn about the history, philosophy and arts that surround the world of Cha-no-yu.

We offer a whole range of on-demand tea ceremony gatherings, from the simpler "chakai", to the longer and more formal "chaji".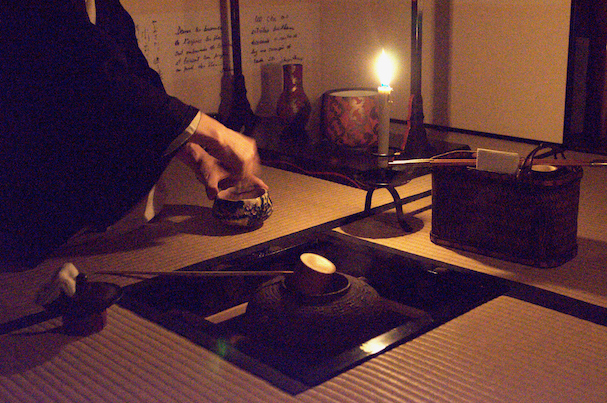 Experience a private tea ceremony in an authentic environment. A tranquil garden path will lead you into a historical tearoom, where you will be served matcha tea together with seasonal confectionery. The decorations and utensils we use are authentic, ceremonial grade pieces, carefully chosen according to the season.
2 guests minimum.
Duration: about 45 minutes to one hour
Price: please contact us.
For serious tea connoiseurs, we offer an authentic Chaji, a formal tea gathering, which includes a kaiseki meal.
Prices vary according to the actual plan, please send your inquiry here.
Yuuhisai Koudoukan
E-mail: info@kodo-kan.com
Contact Information
We are not able to accept cancellations made less than 10 days prior to the scheduled date.
Please pay in advance, no later than two weeks after making the reservation. We accept bank transfer or PayPal.