Noh or Nogaku is a major form of classical Japanese theatre, which originated about 600 years ago in the Muromachi period.
While it is nowadays being mostly performed in a specialized indoor theatre, in the beginings Noh used to be performed outside, and in the Edo period it was widley peformed in a zashiki (tatami room). At Koudoukan, you can experience Noh in a historical sukiya style building, overlooking a peaceful Japanese garden.
Learn more about the history of Noh here.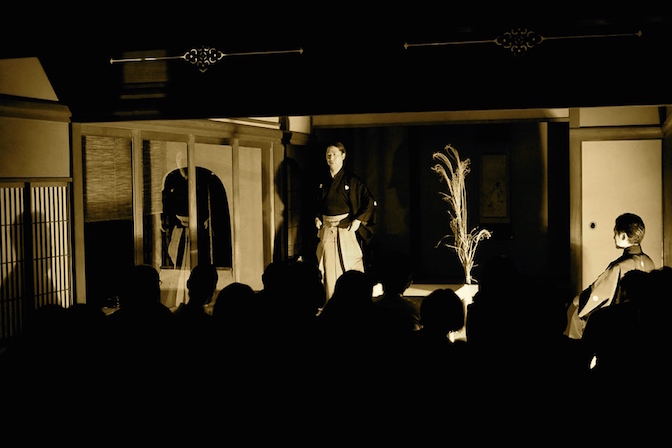 A simplified version of Noh, Shimai dance is an excerpt of a play, usually performed in a black formal kimono and hakama.
Come enjoy the very essence of Japanese culture in the minimalistic expression of voice and movement.
Program: Lecture and one dance performed by a professional actor, about 45 minutes.
Price: please contact us.
Experience Japanese theatre at firsthand by taking a Shimai dance lesson. Under the guidance of a professional actor, you will try the refined minimalistic movements of the Noh theater, using a real fan. A fan is perhaps the most important prop in Noh. It can represent a whole variety of different specific objects, while at times it is used to express abstract subjects such as character's emotions or the scenery. It is said that a deity resides in the fan.
Let's enjoy a real Noh "okeiko" (lesson) tohether!
Program: About 20 minute lesson.
We recommend that you combine the lesson with program (1) demonstration and lecture.
Price: please contact us.
As an option to the lecture and demonstration (1), we can arrange professional Noh musicians to provide yet a stronger atmosphere. The music in Noh includes a flute and three drums (kotsuzumi, otsuzumi and taiko).
You can enjoy harmony of dance, music and singing.
Program: One track (about 15 minutes)
Price: please contact us.
This truly unforgettable experience will take you back in time to the Edo period when Noh was widely performed in the zashiki (tatami rooms) of regular houses. You will see a full play, complete with the masks, costumes and music.
The perfect option if you are looking for something really special.
Program: One play, about 40-60 minutes depending on the actual piece.
Price: please contact us.
Yuuhisai Koudoukan
E-mail: info@kodo-kan.com
Contact Information
We are not able to accept cancellations made less than 10 days prior to the scheduled date.
Please pay in advance, no later than two weeks after making the reservation.
We accept bank transfer or PayPal.